The two words that would best describe why I insist that my boyfriend be locked in chastity would be….
Power
Control
I am an incredibly sexual woman and my ability to have unlimited orgasms; anytime, anywhere, in any fashion and with anyone I want is extremely erotic and intoxicating.
And knowing that I have the authority to deny him permanently (if I wanted to), makes me even wetter. Keeping a man under my long, manicured thumbnail by securely locking his dick up, is the ultimate power trip.
I also happen to be a crazy control freak. I like to have things just the way I want them. My locked up man enables me to keep my life in perfect order.
He makes sure that the house is kept spotless, both inside and out
He works six days a week bringing his BIG paycheck home to me
He keeps my car detailed, washed and waxed so it always shines
He polishes my large high heel collection so I always look my best
He works out like a fiend because I have a weakness for a nice body
His tongue is always ready and willing for my pussy or asshole
He meekly takes my hard slaps to his face when I'm in a bitchy mood
He fluffs my lover's dick up when I'm in the mood for penetrative sex
Yeah, all I have to do is snap my sexy fingers and he'll do ANYTHING for me!
And in return, all I have to do is humiliate the hell out of him.
The truth is that he loves being with a cunt like me. If I asked him to leave tomorrow, he would instantly drop to his knees and BEG me to let him stay.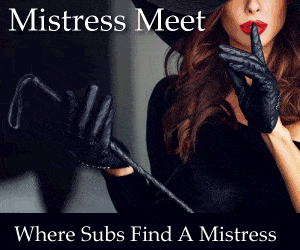 But I'm not the total bitch since I do allow him a supervised orgasm once every so often.
How often?
That depends on how the weekly 'game' goes.
Every Friday evening, IF I don't have a date AND I deem that he's been the perfect boyfriend during the previous week, I allow him to roll the dice.
If he rolls a 'seven' he qualifies to play 'spin the wheel'.
If he doesn't roll a seven, he's denied for another week and can roll again the following Friday, IF I don't have a date AND he's been the perfect boyfriend for the week.
That sounds cruel I admit, but insisting that your boyfriend be locked in chastity does require you to have, or develop, some sort of mean streak.
On with the rules of the game….
If he does manage to roll a seven, he gets to spin the wheel.
I had a former lover build a custom and quite sophisticated wheel. It is meticulously crafted and perfectly balanced as I want the outcome of the spin to be eminently fair to my boyfriend.
The wheel is divided into eight equal sections labeled….
Ruined orgasm (this is quite amusing, for me anyway)
Tease and denial session (with no orgasm to follow)
Cum on my high heels (and lick up the mess)
You lose (no orgasm – try again next week – too bad)
Full on fuck (my fingers are crossed that this doesn't come up)
Masturbate on my ass (then lick my asshole clean…. ummm)
Cock caning (he doesn't want an orgasm after this)
Karon's choice (one of my favorites)
The first seven are pretty much self-explanatory. Karon's choice (that's me) depends on my current disposition, mood and whim.
The last time the wheel stopped on my choice, I was quite horny but didn't really think he needed to be let out of his chastity device.

I called my girlfriend Lisa to come over and we proceeded to make love on the couch while he stood at attention in panties and heels holding the wine tray.
Anyway, it's quite a fun game (for me anyway), and he has a 50% chance of spinning for an orgasm. From my viewpoint, that's more than fair.
Nothing quite matches the power dynamic of keeping your boyfriend permanently denied (more or less) and locked in chastity.