It began with one of our dirty weekends away. At my wife's insistence I'd been wearing my chastity device for two weeks. By the time we got to the hotel I was just about ready to explode with pent up sexual tension. She'd told me that she had a special birthday treat for me – a cuckolding treat.
A few months earlier I'd found her some willing partners on a dating site. There were three guys I'd shortlisted. The first one we chose dropped out at the last minute.
The second choice was no longer available so she had to settle for the third choice. Fortunately, as it turned out, my wife said, after their first meet up, that he was really nice and his photo had not done him justice.
On that first date I watched from the driver's seat as they kissed and petted in the back of the car. She jerked him off and he came all over the tops of her black stockings. I had high hopes after that of watching him make love to my gorgeous wife.
Unfortunately, they could never seem to get it together – until, I guessed, now.
She had told me outright that she had booked adjoining rooms in the hotel – one for us and the other for her lover. I assumed she meant Phil but, I guess, that was the surprise she'd promised me.
As soon as we got to our room I was ordered to strip and put on a humiliating French maids outfit complete with stockings and little white pinafore. I wasn't too keen on the idea of her boyfriend seeing me like that, but my wife assured me he would not.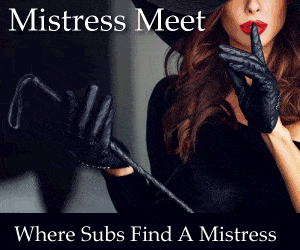 So, there I was, on my knees, hands cuffed behind me, face buried in her smooth shaved pussy, cock straining painfully against the plastic walls of its prison, when her mobile rang. Slapping the top of my head and telling me to, 'Get on with it wimp!' she chatted a few minutes with her lover. I was immediately jealous at the loving sexy tone of her voice as she spoke to him. I loved it when my wife flirted with other men, but I hated it too. I guess you have to be a cuckold to understand that?
Pushing me away she ended her conversation and told me to go kneel in the corner while she went to help her lover get settled in. It seemed like ages before she returned, thankfully alone, via a connecting door between the rooms.
She immediately told me to get my sac from our suitcase. The sac is a rubber body bag with a double zipper on the front. It has arm sleeves inside and is very tight once zipped. She soon had me secured and lying on the bed covered neck to toe in stretched black rubber. It was very hot inside there and straight away I could feel my body sweating inside the pvc maid's outfit I still wore. I felt utterly helpless and in my wife's power as I gazed up at her smiling face.
'I'm going to my lover now slave and he's going to fuck my brains out. Would you like me to leave the connecting door open so that you can listen?'
'Yes,' I answered, cock twitching inside its prison.
'Oh dear, your manners aren't very good are they?'
'Yes please Madam,' I blurted.
'Very well then my pet. I'll just put my leather coat over your face then you can take in the lovely arroma of leather and my perfume whilst you listen to a real man shagging your wife'.
I had to strain to hear over the sound of my own heavy breathing under her coat. It was amazing. I'd never heard my wife so vocal in her love making. Was she doing it to tease me or was he really that good I wondered.
I heard the door closing then had to screw my eyes shut against the light as the coat was lifted from my face. Eventually I opened them to see my gorgeous wife standing there in just her hold up stockings. One hand was cupped under her pussy as she smiled, 'Ready for your birthday present sweetheart? Here it comes'. As she climbed onto the bed and straddled my chest I realized what she meant. I'd often fantasized about cleaning her with my tongue after she'd been royally fucked by some other guy, but I never really believed it would happen. No way would she have unprotected sex with anyone but me. Or so I'd believed.
The sight as she removed her hand was amazing. Thick white cream was oozing from her wet and swollen lips. A long strand detached itself and dropped down onto my cheek. It was disgusting. Fantasy is one thing, but the reality was just awful. I tried to turn my head away, but she gripped my face between her strong smooth thighs. 'Happy Birthday slave,' she cooed as she sat down directly onto my face.
Screwing my eyes shut and closing my lips tight I lay there waiting for her to lift up. I waited and waited. Then I realized – I couldn't breathe. 'If you want air you'd better start cleaning up down there slave,' I heard her voice say, muffled and stern sounding.
I hung on as long as I could, trying futilely to find some gap to pull in a desperate gasp of air but there was nothing. Eventually I gave in and stuck my tongue into her drooling pussy. Lifting slightly she allowed me some life giving oxygen. The taste was salty and a little bitter but not as bad as I'd imagined. Suddenly it was like a dam had burst and my face was covered in another man's spunk mixed with my darling wife's own juices. Then it was as if a dam had burst inside my mind too. I was licking and swallowing frantically, drowning in cum but drowning too in my own degradation. I just needed to show this amazing woman how much I loved her!